So, you want your very own sex doll – but they seem so darn expensive. With some dolls costing more than a month's wages, it's natural to want to shop around and get the lowest price.
The good news is there are a number of secrets to finding a high quality doll for less. With new sex doll factories appearing in China all the time, plus new retailers opening up, there's plenty of competition and lots of models to choose from. Here we'll reveal the best ways to get an inexpensive sex doll – with secrets you won't find anywhere else
Tips for buying a cheap doll: at-a-glance
An inexpensive sex doll can be found by: buying a second-hand doll through a doll forum; ordering direct from the Chinese factory; buying on Alibaba; waiting for end-of-line models to become cheaper; asking retailers/factories for damaged or imperfect models they want to clear; using discount codes offered by doll retailers; waiting for sales – including flash sales (and waiting for Black Friday) and even simply asking for a discount.
6 WAYS TO GET A LOW-COST SEX DOLL
Buy a "pre-loved" sex doll through a forum or Craigslist
Order direct from a factory in China
Order from brand doll stores on Alibaba/Aliexpress – but with care!
Ask for an additional discount (they can always go lower!)
Find (or ASK FOR) discount codes
Consider holding out until the seasonal sales, especially Black Friday


Each method is explained in detail below!
The above is an example of a doll for sale from a well-reviewed Amazon retailer. While it is cheaper than other dolls, the reviews suggest it is of good quality. However, in general, we suggest choosing a dedicated retailer.
Payment plans can help you spread the cost over several months.

Quality

However, doll quality can vary, so it's important to choose a doll brand with a reputation for durability – as well as beauty. There's no point paying $500 for a doll whose skin starts to split after a few weeks.

TPE or silicone

Silicone dolls tend to be more expensive, but they are also more durable. TPE is cheaper, and some people say the skin (especially breasts) is more realistic. Take care if you see a very cheap silicone doll – as this means it might be fake (or not exist). If you want a super-human-like doll, check out our Realistic Sex Dolls page.

Before you start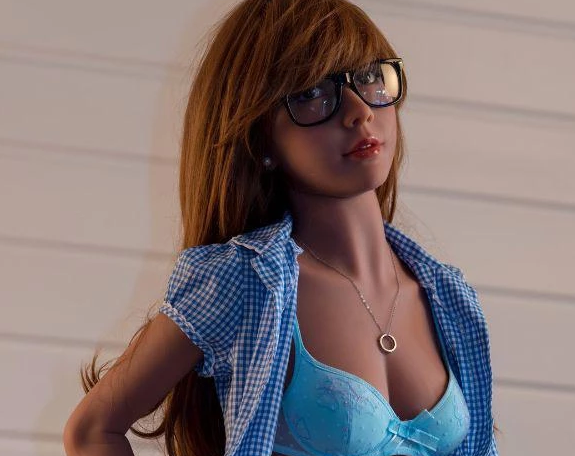 Price matters, of course, but it's important you receive a doll you really like. Take some time to explore forums such as The Doll Harem, and watch review videos on YouTube to find the perfect product. Video reviews are helpful because you get a better idea of what the doll looks like.

Import duty and customs clearance

Also make sure the price includes import duty and customs clearance, or your doll's arrival might be delayed.

Read our sex doll scam spotting page before you part with your cash.
1. Buy second hand through a forum
"Pre-loved" dolls are often placed for sale on forums such as:

http://ourdollcommunity.com/forum/index.php?board=29.0
Some people are put off by the notion of a used doll, but you will save at least a few hundred dollars/pounds. Make sure you look at lots of pictures, and ideally that the doll came from a smoke-free home. Surprisngly, some owners never have sex with their dolls – try to hunt down such a product, or at least one with a removable vagina. Forums are great places to find people who have long-standing reputation; they are known and trusted doll enthusiasts, so you'll likely be getting a well-cared-for and genuine branded doll (i.e. not fake). The price will be listed but always offer less first; start low even if it causes offence.

Buying used dolls during economic uncertainty

The sad truth is that during hard times people need to offload their possessions, so it's worth haggling hard to get the best price. You might be surprised how low people will go.

Potentially no customs issues

Another great thing about buying second hand is – assuming you buy from within your own country – you won't face any problems with customs. The seller may also deliver it if they are nearby – which means not having to deal with delivery companies.

Look at people's collection photos

Doll lovers often post photos of their dolls. If you spot one you like, it wouldn't hurt to ask if the owner wants to sell it – especially when the economy is on a downturn and people need to realise their investments..
2. Order direct from a Chinese factory
It's worth visiting the websites of brands such as WM Dolls, Doll Forever etc and seeing what deals they have. You'll probably find they don't undercut their partner retail websites, but have a look anyway. The manufacturer can in theory give you a massive discount, but they probably won't. The base price of a $2,000 doll may be as low as $700. You can even ask if they have any end-of-line dolls, or flawed models they can sell you for a low price.
3. Buy through Alibaba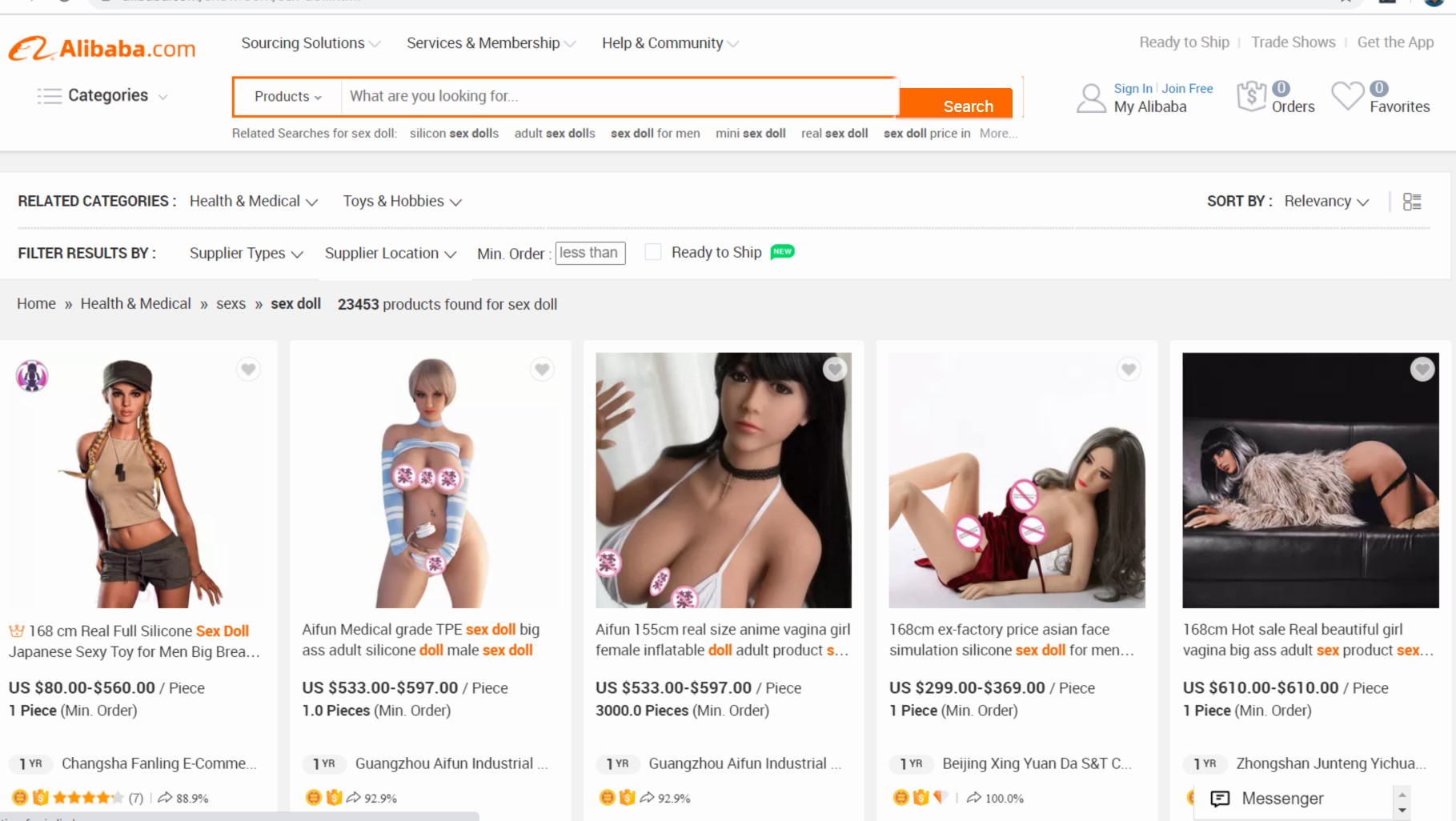 Alibaba is the largest retailer and e-commerce company in the world. As such, China's sex doll manufacturers would be crazy not to list their products on it. You'll see some very low prices on there – so low you might wonder: "What's wrong with them?". The unknown quantity of Alibaba means many people prefer to buy from an established retailer. The main worries are: is the doll a fake? Will it get through customs?
There might also be issues with communication – Chinese sellers might not speak (or write) good English, so it's hard to iron out any issues. For example, if your doll got held in customs, it might be very difficult to get it out – unless the seller is on top of their paperwork.

However, we're not going to lie to you: you could find a bargain on Alibaba. It all depends if you want to deal with the risk – after all, you might be spending $1,000 or more.

Look out for manufacturers who manage Alibaba accounts – they often sell dolls for less than you'll find on a regular US, UK or European sex doll site.

Conversely, using an established retailer means you're getting access to their experience: they know how to get you the doll you want without any hiccups with customs. They also send you photos of the doll before it leaves the factory, so you know it's the right one.

4. Ask for an additional discount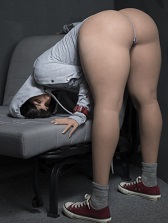 It's the oldest one in the book – but it sometimes works. It never hurts to ask. Just say you're ready to buy right then and there – and you just need a little sweetener. Any additional discount may come in the form of a discount code (possibly replacing an existing code with a smaller discount). Alternatively, you might ask for a free extra head (more likely if you're buying an expensive doll), or other freebies such as wigs and clothing.

5. ASK for discount codes
It may seem like a rather tired marketing tactic, but a discount is a discount – so make sure you hunt around for any applicable codes before you place an order. If you're not sure if there's a code, simply contact the website owner and ask. Codes often look like they are used for special periods – such as Black Friday or Christmas – but they are actually used all year round. between 10% and 15% discounts are common.

6. Sales & offers, especially Black Friday
The doll industry tends to have sales pretty much all the time, so the chances are there will be one on when you wish to buy. There may be bigger sales/discounts around Black Friday and Christmas, but sales and deals are very common.
Payment plans

Some retailers offer payment plans on their dolls. While this doesn't reduce the price, it can help manage your finances: paying off $100 a month is less of a shock than paying out $2,000 in one go. Look out for interest-free plans.

What not to do

In theory a person could contact a Chinese manufacturer and say they're thinking of setting up their own doll retail business. They could then ask for a doll at the base cost – ostensibly to check the quality. However, this is less likely to work – and is unethical. Do not do this.

In the past, criminals have attempted to order a doll, then get a charge back from their credit card company once the doll has arrived (saying it hasn't). However, doll retailers have highly effective anti-fraud systems in place, so this never works these days. It may also lead to prosecution.

Don't get scammed

One of the best money-saving tips is: make sure the doll comes from a reputable seller. Paying thousands of dollars for nothing is the most costly experience of all.