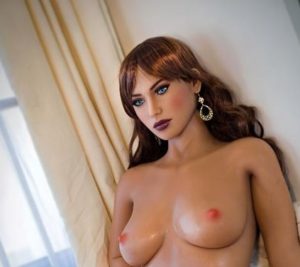 In the ever-expanding realm of sex dolls, SM Dolls is perhaps one of the lesser known brands. Indeed, it is sometimes hard to keep track of the new brands appearing.
But one thing is sure: the Chinese sure know how to build a sex doll.
SM joins the ranks of WM Dolls and Silidoll – who manufacture high quality TPE-based dolls at a pretty low price. In fact, if they went any lower you would probably wonder about the quality.
With SM Dolls, you can get hold of a good-looking doll for a price well under $2,000. Some dolls are even available for around the $1,600 mark.
So what does the SM range offer?
The firm – whose 'SM' stands for Shangmei – tends to offer dolls of the taller sort, with a few models in the 146cm+ zone – but most occupying the 165 – 170cm range. So, these are rather tall dolls, and are around what you would want if you want a full-size Caucasian style doll.
Indeed, it appears as if SM Dolls have angled their products towards Americans and Europeans who are looking for an Anglo-Saxon type of girl – tall, with big breasts.
Most SM options seem to feature large, highly squeezable breasts. Some designs might seem a little top-heavy – but then it is all down to personal taste, and they certainly have a lot of girls to choose from.
Big Butt SM Dolls
Let's take the 5ft 7inch (170cm) doll, sometimes known as Keyra. She's like a large, pretty early-middle aged American woman, with medium sized tits and a larger bottom. For those who want a really good looking woman of the sort one might meet in a mid-western bar, then Keyra could be perfect. One imagines her size really adds a level of reality to the love making. And if you like your butts on the bigger side, you're in luck.
Keyra's face looks most agreeable – which is not always the case with dolls designed by Chinese people for the US market.
If you're looking for a really pretty looking doll in the SM range, then we think the 163cm model is a great option. She has smaller breasts, but her face really has been sculpted amazingly well. And if you're anything like us, the face is what really does the turning on. When it comes to sex dolls, you really do want to look at the mantel piece when you're poking the fire!
Skin Colours for SM Dolls
Like most doll makers these days, SM Dolls offers a number of skin colours. The five on offer are Dark Tan; Light Tan; Pink; White; Yellow. It is a bit of shame that they don't have some darker skin options available, since we do love our brown girls here at WSD!
Eye Colour & Nipple Selection
With three eye colours – blue, brown and green – SM Dolls is pretty much the same as most manufacturers. Nipples (areolas) are available in Dark Brown; Light Brown; and Pink. Again, the usual selection.
Vagina Type
Once again, SM Doll has not broken the mold here, as it were. Vaginas are available as fixed or removeable.
Finger Nails & Foot Style
Natural and Pink are the only nail options – which is a little bit boring if you are into your finger nails! WM, for example, come with numerous nail options. However, unless you're really into finger nails, then this won;t be a massive issue.
Foot Style
You guessed it – you can choose from regular or standing, so no surprises there!
Head Choice
You get to choose from a fairly decent 12 head types. You;ve even got an elfin one in there! Compared to some brands, this might not seem like such a huge range, but if you like one of these heads, then you're all set! We really like Head 3 and Head 37. We think Head 48 looks a little mannish – but hey, some guys are into that!
Hair Style
SM Dolls' hair styles are what you would expect, including bob cuts, curlies, silver (popular in the real world among Asians!), then you've got a range of hair cuts that, to be honest, all look very similar. But we understand some guys want their doll to look just like their ex-girlfriend, or the One That Got Away!
Toenail Colour & Pubic Hair
If you buy your SM Doll through SRSD, you'll get to choose from nine toenail colours – which is pretty decent. You'll also get to choose from four public hair types, and choose to have a hanging hook attached or not.
How Heavy Are SM Dolls?
With all the many advances in the production of sex dolls, one thing they can't quite address is the weight. All sex dolls are heavy, unless you were unlucky enough to buy a blow-up doll. And in this regard, Sm Dolls are quite heavy. For example, the impressive looking 170cm doll with the very pretty Head 62, weights a substantial 53kg. This equates to 116lbs. On the plus side, this does compare well to a real woman, so it is nothing if not realistic!
If you want something a bit lighter, then we recommend going for the 163cm doll  with smaller tits.
Why are SM Dolls so Cheap?
SM Dolls appear to be $100-$200 cheaper than most dolls in this range. Why is this? We're guessing it's because the company needs to make in-roads in an already very crowded market. From what we hear from SRSD, customers are happy with SM Dolls. For those who can't afford an expensive Japanese or US-made doll, these dolls are a great alternative.
The sex doll market is undoubtedly growing, buoyed no doubt by on-going stories in the media – particularly about sex doll brothels opening up in the UK, Spain and France. Indeed, the establishment that opened up in Paris recently is the only one of the three still operating. Despite a campaign to get it closed down, it has remained open, ostensibly because the police say 'no law has been broken. Oh how we do love the French!
Big Tit SM Dolls
Most SM Dolls have large-ish breasts, but not ridiculously so. In fact, the only really humongous breasts in the range are found on the 150cm (4ft 11′) L Cup Sex Doll. Yes, we know, what the hell is an L-Cup? Well, check out the photo to take a closer look!
Can I trust SM Dolls?
SM Dolls has been going since 2004, and has manufactured dolls for other brands, alongside parts used in the production of other dolls. ON the website, it states that "SM DOLL HAVE BEEN WORKING FOR WELL KNOWN BRANDS AS OEM PARTNERS" – so there you go. It's clear that the Chinese firm wants to make inroads into the US market – like all Asian sex doll manufacturers. The good news is that US buyers can get hold of some pretty reasonably priced dolls – so long as Donald Trump doesn't add massive taxes to Chinese imports. If a trade war begins, US buyers might see another 15% added to the import duty. This is because under US law, no imports can be charged more than 15% import duty. of course, Mr T might decide to change this rule – although it would take him a long time and a lot of effort!
SM Elf Doll?
Yep, you guessed it, SM has jumped on the elf bandwagon – and boy, is that band wagon occupied by a lot of elves! So, do SM make the best elf dolls ever? probably not, but at the price they are being offered, how can you complain? The elfin face is good looking, with those sexy little ears (if you're into that sort of thing), and rather sizeable breasts! This girl is on the cheap side because she is 136cm, which probably means that most US suppliers won't sell her to you – but that's fine.
Asian-looking SM Dolls
It does appear, to be quite honest, that Sm Dolls has focussed heavily on Caucasian looking dolls. But then again, it seems that western and eastern looking dolls are beginning to meld into each other. In a away, their faces probably look like how the human race will look in a thousand years – an average of about 10 different ethnic groups – and why not?!!
Should You Buy a Doll from SM?
Because SM is up against some stiff competition, it's understandable that they have tried to undercut their rivals. This low price might worry some buyers – and we totally get this here at WSD. However, there are some pretty big retailers behind this brand, including none other than SRSD. They have built a decent reputation for delivering high quality dolls from Chinese factories. Like the vast majority of sex doll factories SM is located near Shenzhen, the sex doll capital of the world – for all intents and purposes. So it's understandable they have forged relationships with some of the many other doll-plants in the area.
Rest assured, SM is the real deal. Of course, like many Chinese firms targeting the US market, their presentation is a little out of whack. But the products speak for themselves – great TPE sex dolls at a reasonable price.