140cm Angel Sex Doll: The Complete Guide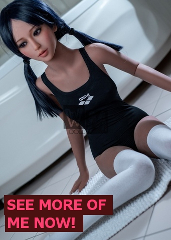 Made of high quality TPE (as opposed to silicone), the 140cm Angel Doll is one of the WM Dolls' best-selling dolls. While hard sales data is hard to come by, it is the most searched-for WM Doll in Google. It is available with a wide range of heads, skin types and can be fully customized. The 140cm is also sold under a number of different names – based on the selected head. These include Debby, Leila and others.
Why is the 140 so popular?
Even though TPE is less costly than silicone, it is still expensive. As such, a smaller doll simply costs less to make than a full-size one. In turn, a shorter doll is much lighter, which means it is easier to pose and manoeuvre. The WM Doll 140 weighs 23kg (50lbs), compared to the average US female weight of 75kg (166lbs). This makes her much easier to have your wicked way with than the average lady – and you don't even have to buy her dinner.
Body measurements: 72.5cm (chest) × 51 cm (waist) × 74 cm (hips).
The video below shows off the credentials of the WM Dolls 140.
But it's made of TPE. Isn't that an inferior material?
It is true that TPE is cheaper than silicone, but TPE is still a very realistic material. As a recent XDolls video demonstrated, TPE is a fantastic material for wobbly breasts (the silicone is "light years away from the TPE"). The silicone, however, has been made into a "pretty much human" face. It's a little hard to understand the guy in the video but it's quite informative. See the video below.
It's worth noting, too, that when it comes to producing much bigger dolls – such as those with bigger breast, buttocks, or even pregnant love dolls, TPE is much more economical than medical-grade silicone.
The ideal, perhaps, would be to have a silicone head and a TPE body. More care needs to be taken with a TPE doll, since the softer material is more easily damaged. The ears, for example, are notoriously delicate. So if you're into ear-nibbling, take extra care.
Isn't 140cm a little – weird?
The average height of an American woman is 162.56cm according to Livestrong, (158.5cm for a Japanese woman).
The key reason for making smaller dolls is cost: silicone and TPE is expensive.
Less tall doll, less big delivery box
Taking delivery of a sex doll is usually a bit of a worry, especially if you have nosy neighbours. But the 140cm doll, because it is shorter, looks a little less like a coffin when it arrives! It also costs less to ship, which probably means some cost saving is passed on to you by the doll retailer.
Customise your sex doll
Many high-end sex dolls are customisable, although some cheaper off-the-shelf dolls are not. With the WM Dolls 140cm you can choose the head type, skin colour (brown, natural, white) eye colour (blue, green, brown), hair style, breast size, finger nail style, and whether or not it has pubic hair. Some models are available with detachable penises, basically making them transgender shemale sex dolls. Fun for all, eh?
Vagina insert or built-in?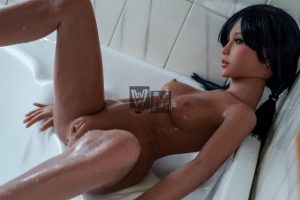 You can choose to have a built-in vagina, or you can have a cavity in which you can insert a variety of different vagina types. The built-in option looks more realistic, but the insert option lets you experiment with different vaginas. There is a chance that the built-in option does not 'fit' you so well, but most customers are happy with this feature.
Ass option?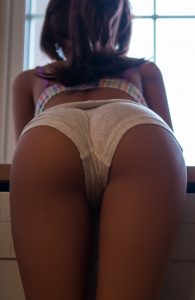 Sadly there is no ass size option available on the WM Dolls 140 cm doll. Manufacturers tend to shy away from larger bodies because of the huge amount of TPE or silicone required to make them. A sex doll weighing the size of the Average US woman would cost a fortune. Good job most guys prefer thinner women!
Counterfeits?
Because the 140 is so popular, it has been copied by other manufacturers. These non-official WM Dolls are often made of very low grade TPE which tends to fall apart after a few weeks or months of use. Many of these counterfeit dolls are made in China near the real WM Doll factory. The reason for this? Rumour has it that ex-employees have started their own operations, or that other entrepreneurs have simply decided to cash in on the success of the WM Dolls 140 (and the popularity of many other WM Dolls).
These 'amateur' manufacturers tend to know a lot less about making high quality product that will stand the test of time.
Some buyers have received blow up dolls instead of real TPE dolls.
Scammer tricks
Some scammers selling on eBay despatch dolls that looking nothing like the pictures in the listing. These people believe you will be too embarrassed to file a PayPal claim. But if you do get burnt in this way, be sure to file a claim no matter what.
Buying a second hand WM Dolls 140?
You can get a used WM Dolls 140 for considerably less than a new version. However, you should try to get the seller to show proof of purchase from the original vendor. Make sure you look at lots of photos and ideally ask them to take a snap of the doll and the p.o.p. with a piece of paper displaying the date and your name. This way you swill know the doll really does exist.
Buying New?
There are a variety of trusted suppliers of the WM Doll 140. Prices tend to be around the $2,000 (£1,500) mark. This website works with Sexy Real Sexy Dolls, which currently has a choice of WM Dolls 140cm dolls starting at $1,820. I make a modest commission if you choose to buy after clicking the link above or below.
Want a Less Big Doll?
Some people want a smaller doll – most often because they cost less.
Want a black sex doll in the 140cm range? There are a number of superior quality ebony love dolls available in super realistic TPE. Why not check out our complete guide to black sex dolls?
Or learn more about WM Dolls.