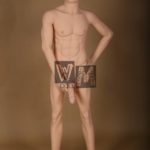 The male sex doll has not quite reached the levels of fame enjoyed by the female sex doll, but nevertheless is becoming more popular by the year. The world of female love dolls is populated by many thousands of passionate men who dearly love dressing up, making up – and making love to – their companions.
Still, more and more people are becoming enamoured with the notion of a sex doll in the shape of a man.
Sex Dolls for Women
One of the main markets for men-shaped sex dolls is, of course, women. The exact reasons why women buy such items is something of a mystery, but we could probably guess that such a doll would provide the physical presence of a man and even offer the love making abilities of a real man. Indeed, some ladies would point out that the average man sex manikin boasts an erection that is far more reliable than the average man!
Male Sex Dolls for … Men!
It doesn't take a genius to work out that men might also want a male sex doll. Again, the current doll range offers the look of a good looking male – no plumpies available as yet – and offers the ability to enjoy some serious anal fun times. Take a look at the doll from WM Dolls – one of the few affordable sex dolls on the market. Unfortunately, WM Dolls only has two heads available for its model – and these might not be to every would-be buyers taste. Given the range of female heads available from sex doll manufacturers, it hardly seems fair that there are so few head options. After all, the face is a rather important part of a man – even if he is made of silicone of TPE.
TPE Dolls made by WM Dolls
WM Dolls make all of its dolls in TPE, rather than silicone. TPE stands for thermoplastic elastomer and it is cheaper than silicone. For some people, TPE offers a more realistic feel. Female TPE dolls are often praised for their realistically wobbly breasts. Of course, there is no real wobbly bits on a man (unless he's been hitting the kebabs) – and certainly not in the realm of sex dolls of the male variety.
But I Want a Silicone Male Sex Doll!
OK, OK, we know some people love silicone in their love dolls – male or otherwise. One company based in California does make silicone male sex dolls – Sinthetics. Their dolls come in at over $6,000 – which is pretty costly compared to WM Dolls (which retail for less than $2,000), but the Sinthetics dolls are certainly of fantastic quality. One of the cool things about this firm is that they have a very wide range of skin tones available, ranging from Peaches (pinkish fair: Caucasian such as Northern European, Scottish etc.) to Mocha (deep tan – African, Latin, mixed ethnicity, Native American, Indian, Middle Eastern). They can even send you free samples of the silicone types – you just the pay the postage. The only skin shade they don't seem to have is Martian green – but that's one sex doll I could do without seeing!
What about the Male Real Doll
Real Doll – famed for its female sex dolls – also makes male sex dolls. Some of their wares – both male and female – can only be described as utterly bonkers. The level of realism of a RealDoll is almost scary, with an incredible amount of attention on details like freckles and fingers – and area that more affordable dolls struggle with in terms of authenticity.
The Future of Male Sex Dolls?
There appears to be a huge market for male sex dolls – with hundreds of thousands of related searches being made on Google each month. Is this need being addressed? Arguably not. Paying $6K for a life-size doll is a big ask for the average wage earner, while WM Dolls has a dearth of options with one rather slim body type and two head types. Nonetheless, the WM adult male doll is very well made and if the face(s) suit your taste, they offer a great introduction to the world of male sex manikins.