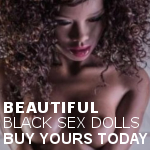 Black ladies – if you've arrived on this page, you'll have your own reasons for adoring them. Here at WhichSexDoll.com we love them too, which is why we've created the ultimate guide to black sex dolls.
The love doll industry has come a long way since old Adolf gave his troops blow-up dolls to stop them 'fraternising' with locals ladies and catching venereal disease (it didn't work, by the way). One of the amazing things about modern love dolls is that they are available in all sorts of ethnicities – including black sex dolls, otherwise known as ebony or African.
Black love dolls are as realistic as you could want, with a variety of chocolatey-brown skin shades, various sizes of breast, butts – and overall body sizes – on offer.
African American Sex Dolls – 'All The Right Holes'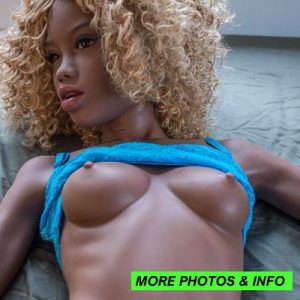 Among the various types of black doll available is the African American. Just take a look at the incredible beauty to the right – she's got that sassy look that many of us find so exciting about American black girls, with stunningly realistic titties and sumptuous brown skin. Her body can be moved into any position you can think of, and has been made by one of the world's most popular doll makers, WM Dolls. And of course, she has all the right holes in all the right places.
Big Breasted Ebony Sex Dolls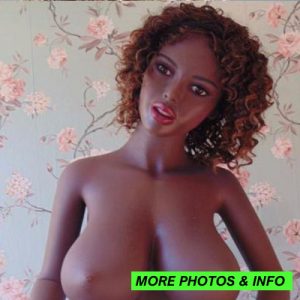 Now, a lot of us prefer our ladies with larger chests – which is why the boffins at WM Dolls have come up with a range of big-titted beauties, not least of which is the incredible Isabel, pictured below. Just imagine resting your weary head on those formidable gazumbas! No, we're not sure 'gazumbas' is a word either. The H-cup goddess shown is 156cm tall and, like all WM Dolls, can be manoeuvred into any erotic position you desire, and can be made love to in the mouth, the pussy, or, yes, the bottie.
Tall Ebony Supermodels – Seduce her in the end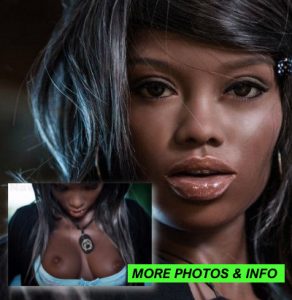 Like your black girls on the tall side? No worries. The clever dudes over at WM have come up with this insanely hot chick. Beautiful Nava can't wait for you to take her home and get down to some serious bedroom shenanigans. Look at that face! She's not going to be easy…but we think you'll seduce her in the end (double entendre not intended). Look at that stunning little pussy – maybe she'll let you kiss it later?
Jayde – a Petite African stunner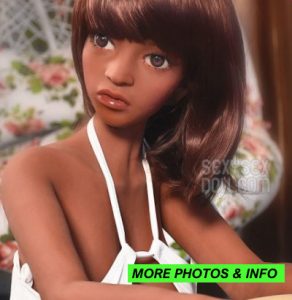 Jayde is another African stunner, made by 6YE in China. With four years of experience making dolls – matching that of WM Dolls – this company has grown from supplying doll lovers in China alone, to supplying them worldwide. Jayde is available with a range of wigs, and fingernail and eye colours. At 132cm high, this is a petite lady who is easy to get into your favourite positions. But we think missionary or on top is best, because you get to look at that incredible face as you surge into her. We have it on good authority that Jayde likes to hear you mouth your darkest thoughts while you're slipping in and out of her sopping wet hole. Yes we do. Take a closer look at Jayde by clicking on her.
Why do we love black ladies so much?
We all have our own reasons for adoring the brown women, from high school crushes to enjoying the odd black girl twerk on MTV. There's just something so very sumptuous about all that smooth, ochre, ebony skin; that unique, visceral hair and those apple bottoms. That said, they come in all shapes and sizes. But we can't always get our very own African lover – perhaps because there aren't any around, or you can't get introduced to any.
Your own personal harem
But all that doesn't matter anymore. Now, you can have your very own lady – and one that doesn't even want to leave the bedroom. Lusting after your own Gabrielle Union? Want a personal harem comprising Paula Patton, Alicia Keys and Beyoncé Knowles? Now it's possible – kind of. You can choose the head, skin colour, hair colour, eye colour and even nail colour of your favourite girls. To add an extra layer of realism, you can also buy the kind of clothes your starlet heroines wear. Indeed, many doll lovers enjoy dressing up their dolls -and for some it is one of the most thrilling aspects of owning one.
Explore Your Sexual Subconscious
It's not just about relieving sexual frustration – it's about entering scintillating areas of your consciousness that were previously unexplored. The excitement, the beauty, the power of having your own selection of concubines in your home – it doesn't get much more inspiring.
One at a Time
OK, perhaps we're getting ahead of ourselves. It's a good idea to start off with one doll – you don't want to fill out your harem in one go. What would the post man say?
Build Your Own Beyoncé Knowles Sex Doll
OK, we don't want to get sued here – you can't actually build your won Beyoncé Knowles sex doll, mainly because sex doll makers would need express permission to make a doll in the likeness of anyone.
But you can get pretty close to a Beyoncé Knowles doll – giving you the chance to make love to the super star, albeit in medical grade silicone (or TPE). Check out Jayde again – she looks not dissimilar to Knowles. All you've got to do is choose Wig 4, the 4cm Arreola size (dark brown). We also reckon that the dark brown pussy lips and shaved vagina are closest to how Beyoncé keeps her 'situation'. We also think you should buy the standing foot version, so you put her in one of her famous sexy poses. Get Yours here.
Make Your Own Lauren Hill Sex Doll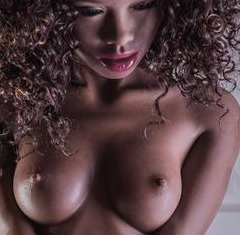 Once again, you can't actually build your own Lauren Hill sex doll – unless she's given the OK for one to be built – which we very much doubt. But you can still come pretty close. Just take a look at this little dark skinned minx – looks similar, no? Dress her up just as she was in her heyday with the Fugees, and then pop out one of those little chocolatey titties and put it in your mouth. Yum!
Famous Black Sex Dolls
When it comes to making your own bespoke black sex doll based (very loosely) on a black celeb, you're really only limited by your imagination. Here's list of some well-known brown-skinned goddesses to get your juices flowing…
Paula Patton
Beyoncé Knowles
Zoe Saldana
Sonia Rolland
Naomie Harris
Taraji P. Henson
Meagan Good
Halle Berry
Brown is the Colour of Passion
Some say it's pink, but whatever, we say it's brown – at least on this page. But there are so any shades of brown, and we all love our own particular shade. The great news is that whether you seek a silicone love doll with hazel, coffee-coloured or nut-brown skin, you won't be disappointed. We might also find that sepia, mahogany, umber and burnt sienna are all appropriate adjectives for the kinds of skin we lust after.
Beige, buff, tan, fawn, camel – the range of words to describe brown skin are as many and varied as the types of black girl in the world – almost infinite.
Softness Too
Once you've picked the ideal skin shade, you need to think about skin softness. Only you don't, because all the sex dolls listed on this page boast delightfully soft skin, adding to the incredible realism of owning a silicone or TPE love-girl of a browner shade.
The Wm Dolls' 140cm Doll
A number of BBW or black sex dolls have been created in the 140cm height category by various manufacturers. One of the leaders, however, in the 140cm field is WM Dolls with its popular 140cm doll. Read out guide on this doll today.
Avoid Getting Scammed Over Fake Black Sex Dolls
Unfortunately, you do get the odd website that either sells fake sex dolls, or sells imitations of reputable brands of sex dolls. And sometimes the doll doesn't even turn up at all. So what's the answer? Well, it's important to do your research. Only consider buying from a trusted retailer. Here at WhichSexDolls.com we only suggest products from reputable love doll stockists such as RealSexySexDoll; SexySexDoll; and Kanojo Toys of Japan. The latter doesn't currently stock black sex dolls but the others do – and they are very well established retailers, based in the USA and Europe.
The chances of being disappointed with your purchase may be higher if you use some Chinese websites such as AliExpress, which seem pretty lax about ensuring the goods sold on their platform are of decent quality – or that they exist at all!
Free Shipping Worldwide For Your Ebony Love Doll
All the companies we work with provide free worldwide shipping on all their love doll products, which makes deciding to buy a black sex doll a bit easier – and cheaper. How long you will have to wait for your doll depends on how the doll is ordered; if it is in stock right now, or if its production has to be ordered. In most cases you expect to take receipt of your beautiful black sex doll in between 1 and 3 weeks. The firm's website will list the expected waiting time.